THE OFFICIAL AND ORIGINAL BGLAOSU ®
(Black Greek Letter Alumni at The Ohio State University)
HOMECOMING REUNION WEEKEND
IS OCTOBER 18 - 20, 2013!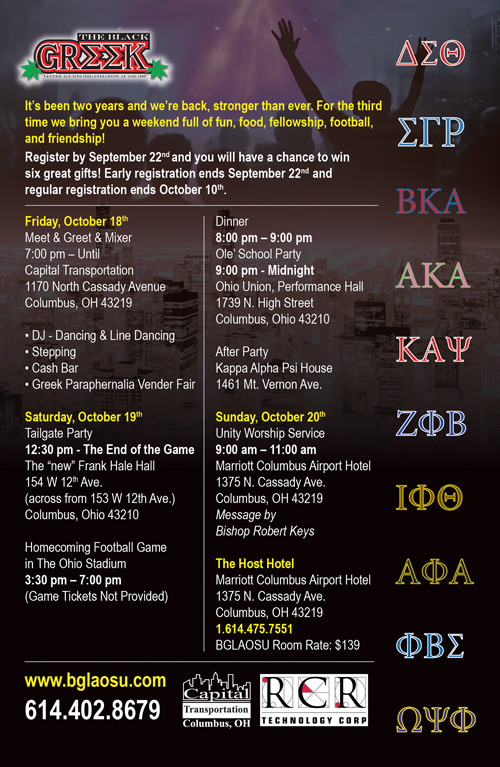 The Black Greek Letter Alumni of Ohio State University (BGLAOSU) would like to invite all Black Greek Organizations including undergraduates and graduate chapters, interest groups (Alpha Angels, Sigma Sweethearts, Que Pearls, Kappa Diamonds/Sweethearts, etc.) and all OSU students that attended The Ohio State University in the decades of the 70's, 80's, 90's, and 2000's, to attend the 2013 Black Greek Reunion.
We are excited to host the 2013 Reunion on October 18-20, 2013 ! The event seeks to reunite students that attended The Ohio State University to celebrate our common interests, friendships, and experiences while at the university.  We have planned a very exciting weekend of activities for you to enjoy.
If you pledged a Black Greek Letter Organization or attended The Ohio State University back-in-the-day then, come party with the AKAs … Deltas … SGRhos … Zetas … Alphas … BKAs … Iotas … Kappas … Ques … Sigmas …......All current and former OSU students are welcome to attend.
Don't miss this event live and in the flesh or you'll have to read about it on Facebook.

And, if you've attended, you know this is not like Vegas … because what happens at a BGLAOSU Event is shared with all on Facebook and that means the sorors and the bruhs will being sharing the fun from LA to NY and all points in-between !